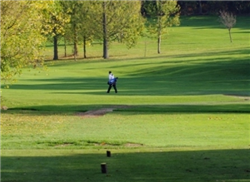 Beauchief is a meadowland course situated in the south west of Sheffield.

There are views to the hills of the Peak District and Beauchief Abbey provides a major feature within the site.

A number of holes cross a stream which drains through the course and one par 3 (for Men) crosses a pond.

There are trees both around and within the course.

The course is laid out in an "out-and-back" format - the 10th tee is at almost the furthest point from the clubhouse.

This means that nine hole, or other part-course, rounds are not possible.

Whilst not considered to be a difficult course, because of its length, many players do find it hard to play to their handicap because some of the par 3's are demanding, several par 4's are testing and, for men, there is only one par 5.

The key is to be accurate with approach shots and, whilst there aren't many bunkers, they are well positioned.

For Men, there are 6 par 3 holes and one par 5, a length of 5606 yards giving a par of 67 and a Standard Scratch Score of 66.

For Ladies, 6 par 3 holes and 3 par 5, a total of 5029 yards, a par of 69 and SSS of 69.

The course has a resident professional golfer and there are catering facilities and a function room at the clubhouse.