Handicaps
The Rules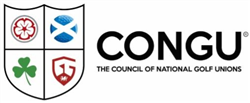 The Club organises a handicap system under the terms and conditions laid down by The Council of National Golf Unions.

It is the only handicap that is officially recognised by the National Unions, their affiliated golf clubs and other worldwide handicapping authorities.
A CONGU Handicap is awarded by a club affiliated to one of the five National Unions/Associations that administer amateur golf in Great Britain and Ireland and is recognised by National golfing authorities and clubs throughout the world. The System enables scores to be compared on a like-for-like basis so CONGU Handicaps reflect the playing standard of the individual golfer at any one time.

The current version is the "CONGU Unified Handicapping System (UHS), 2016-2019" - updated from 1st January 2018 to include changes to the UHS which came into force on that day. In view of the proposed introduction of the World Handicap System (WHS) these changes have been kept to a minimum though they take into account some of the options likely to be adopted in the WHS.

One of the most important changes is that the allocation and maintenance of handicaps above 28 (36 for Ladies) will be applied to all golfers. As a result, apart from Major Club competitions, some members will play from handicaps above the old limits.
Players
Players may have only one handicap which shall be allotted and adjusted by their Home Club. If they are members of more than one club, one must be nominated as their Home Club and the other as their Away Club. The player must notify each club of the name of their Home Club and should seek the permission of each club for any intended change of Home Club. Home Club is usually the one where most competitions are played. Away Clubs are responsible for forwarding qualifying scores at that course to the player's Home Club (usually automatically through the Central Database of Handicaps - CDH).

New members with an existing handicap transferring to the Club should ensure that they include their CDH number (ten digits) on the application form.

Official Handicaps are automatically void when a player ceases to be a member of an affiliated club.
New Members
A CONGU handicap may only be allotted to a member of a club affiliated to one of the National Unions.

New Beauchief Members without a handicap will receive guidance on how to obtain one when they attend a New Members' Meeting as part of the application process.

Handicaps are designed to reflect a player's potential ability so once you are comfortable with your game you will need to submit three completed cards played from the tees of the day and marked by a Club Member. At least one card must be marked by a club member of more than two years standing (for Ladies, by a member of the Ladies Committee).

The Rules for the allocation of a Handicap are set out in Part 16 of the CONGU Full Rules Manual (see the link above). In brief, all scores are adjusted so the maximum for each hole is set to double the par of the hole. The resulting new round totals (the Adjusted Gross Differential ('AGD')) for each round are compared with Standard Scratch Scores (66 for White tees, 65 for Yellow, 69 for Ladies). The lowest resulting total (the LAGD) of the three scores is then reduced using the formula: Initial Handicap = 1.13 X LAGD/1.237 truncated to provide a whole number Playing Handicap.
Handicap Records
Once you have a CONGU Handicap it will be visible on this website and on the Central Database of Handicaps held centrally by English Golf and accessible to all affiliated golf clubs.

You can also check your handicap and your playing records on the HowDidiDo website.
Scores are recorded for all recognised individual competitions whether at Beauchief or in an event at another club. Any of these could lead to a change in handicap though not if the course fails the conditions for handicap purposes - in our case that's often because there are more than two greens out of action through bad ground conditions.
You can also check your handicap at the Player Score Input (PSI) terminals in the Pro Shop and the Cafe.

Members who need a Handicap Certificate can print their own by selecting Members Area / Members Hub / My Handicap Certificate which links to their HowDidiDo record.
As a fall back, please post a request in the Committee Room letter box but please allow plenty of time as Committee Members might not be in attendance for as much as a week!
Competition / Non-Competition Handicaps
All players who have submitted at least three Qualifying Scores (see below) in the 12 months to 31st December will retain a Competition Handicap valid until the following 31st December.

All players who have submitted less than three Qualifying Scores in the 12 months to 31st December will start the following year with a Non-Competition Handicap. To gain (or regain) a Competition Handicap, players must submit three Qualifying Scores during a 12 month period ending 31st December (any qualifying scores from a previous year are disregarded). The status is gained following the third Qualifying Score.

Those members with a Competition Handicap are identified with a "c" on their CONGU certificate and on handicap lists (e.g. 14c). Those with a Non-Competition Handicap have no suffix (e.g.14).

A Non-Competition Handicap is still a valid playing handicap and may still be used for social golf and in club competitions not stipulating a Competition Handicap in the entry criteria. It is highly likely to exclude entry into open competitions at other courses.
Please note that players with Non-Competition Handicaps cannot win a prize in any club competition (see Competition Rules).
Qualifying Scores
What are Qualifying Scores (QS)?
Individual Competitions (e.g. monthly medals, stablefords, open comps at away courses). Better ball competitions and matchplay knockouts are not QS's.

Supplementary Scores: A means of submitting a score for handicap purposes when a competition is not scheduled. (Not accepted on a day when an eligible club competition is running and subject to sign in rules - see below).
An event is Qualifying for handicaps purposes if:
- All 18 holes are in play though up to two temporary greens are permitted.
- The course is no more than 100 yards shorter (or longer) than the measured distance total shown on the card for the tees in use on the day.
- At Beauchief, events held between November and March will normally be Non-Qualifying for CONGU handicap purposes but, for Men, competitions in that period will use Winter Handicaps and be qualifying for Winter Handicap purposes only.

At Beauchief, for our Major Men's Competitions, Knockouts, Ladies Trophy Competitions and Mixed Competitions, entries will only be accepted if the player has a Competition Handicap and has returned at least 4 Beauchief individual competition cards since 1st January of the previous year.

There will be no other Beauchief events where these conditions will be applied as we wish to give players with Non-Competition Handicaps every opportunity to return the three Qualifying Scores they need to gain Competition Handicap status.

At Open Events elsewhere, players with a Non-Competition Handicap are highly likely to be excluded or be unable to qualify for any prizes. So, if you intend to play in any of these, you should first ensure that you complete three qualifying competitions to gain Competition Handicap status.

Scores (preferably a copy of the card) for rounds away from a player's Home Club must be returned as soon as possible to the Home Club and must include: date, venue, CSS, and gross score or stableford points.
Adjustment of Handicaps
The Standard Scratch Score (SSS)

This is the score allotted to an 18 hole golf course and is the score that a scratch player is expected to return in ideal conditions.
At Beauchief for Men it is 66 from the White tees and 65 from the Yellow. For Ladies it is 69.

The Competition Scratch Score (CSS)

This is an adjustment that may be necessary to the SSS to take account of weather and course conditions and is calculated for all Qualifying Competitions from the entered scores of players in the event.
Handicaps are adjusted, if necessary, after each completed round.
For this purpose only, the score for any hole which is more than 2 strokes above a nett par, or where no score is entered, is counted as 2 over nett par - the resulting total nett score is referred to as a Stableford Adjustment.
The Stableford adjusted score is then compared with the CSS to see whether it falls within the Buffer Zone: if so, no adjustment will be made.
Above the Buffer Zone, the exact handicap is increased by 0.1.
For every stroke below the Buffer Zone, the exact handicap is reduced by an amount which depends on the handicap of the player: 0.1 up to handicap 5; 0.2 handicaps 6 to 12; 0.3 handicaps 13 to 20; 0.4 handicaps 21 to 28; 0.5 handicaps 29 to 36; 0.6 for higher handicaps.
The higher your handicap, the faster it is likely to come down!
In addition, the Handicap Committee must review all handicaps annually.
And, individually during the year for any player who has returned more than one score that, after all the adjustments above, are 4 or more strokes below CSS.
Or in exceptional cases, such as for changed medical conditions.
Ladies

For Ladies, New Members without a handicap will receive guidance on how to obtain one when they attend a New Members' Meeting as part of the application process.
They will need to submit three completed cards marked by a Club Member acceptable to the Ladies Committee. At least one card must be marked by a member of the Ladies Committee.
In assessing a handicap, the Ladies Committee will count any score of more than 3 over par at any hole as 3 over par. The Standard Scratch Score (69) is subtracted from the resultant total to obtain the handicap. The lowest handicap so calculated is the one to be allotted.